About the Small Business Development Center (SBDC)
Sign Up for Updates from Summit Medina Business Alliance SBDC in your inbox!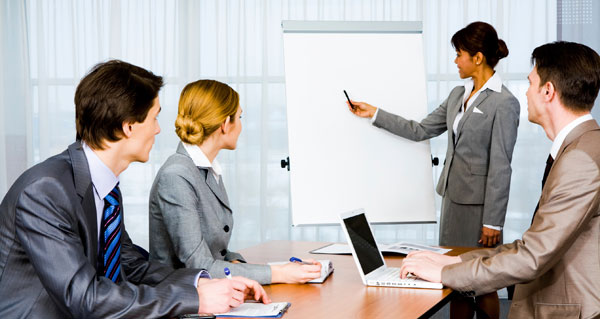 We are receiving clients for in-office counseling by appointment only.
Thank you.
Summit Medina Business Alliance.
Serving Summit, Portage, and Medina Counties.
Small Business Development Centers exist throughout the United States.   The US Small Business Administration (SBA) manages the national program.  The SBA contracts with entities in each state who are responsible for the deployment of SBDC services in that state.  In the State of Ohio, the SBDC system is under the Ohio Development Services Agency.  In turn, the Ohio Development Services Agency contracts with local entities to make sure SBDC services are deployed throughout the State of Ohio.   The Summit Medina Business Alliance is a consortium of local governments that host this SBDC so that SBDC services are available in Summit, Portage, and Medina counties.
Nationwide, SBDC's are fairly consistent in the way services are provided.  Usually, these services include a selection of seminars and workshops, as well as one-on-one consulting.  In several states, including Ohio, SBDC Business Advisors must be certified to assure a baseline professional standard.
SBDC's Comprehensive Work With Small Businesses:
Pre-Venture – The client has an idea for a business and wants to test whether that idea can become a viable business.  The client wants to consider the major factors involved in implementing the business idea.  This will probably involve the development of a business plan.  In some instances, intellectual property issues need to be addressed at this level.
Start-Up – The business idea tested and "fleshed out", the client wants assistance in filing all of the necessary start-up paperwork with various government entities.  The client may also want assistance in identifying and securing sources of capital.  Marketing and promotion strategies are often part of this phase.
Existing Healthy – These clients have businesses that are performing OK.  These clients are now trying to discern the next steps in growing their businesses.  They often consider additional product offerings or developing new markets in additional industries or geographic areas. Hiring plans, marketing plans, logistics plans and plans for raising capital are all often part this phase.
Existing Declining – These are clients who find their leading indicators are indicating in the wrong direction.  They often want another pair of eyes to perform a financial or organizational review to recommend corrective actions.
Of course, any SBDC service is available at any point in the business life cycle as needed.  The above are just a few examples of the more common services performed for business in each phase.
SBDC areas of expertise include: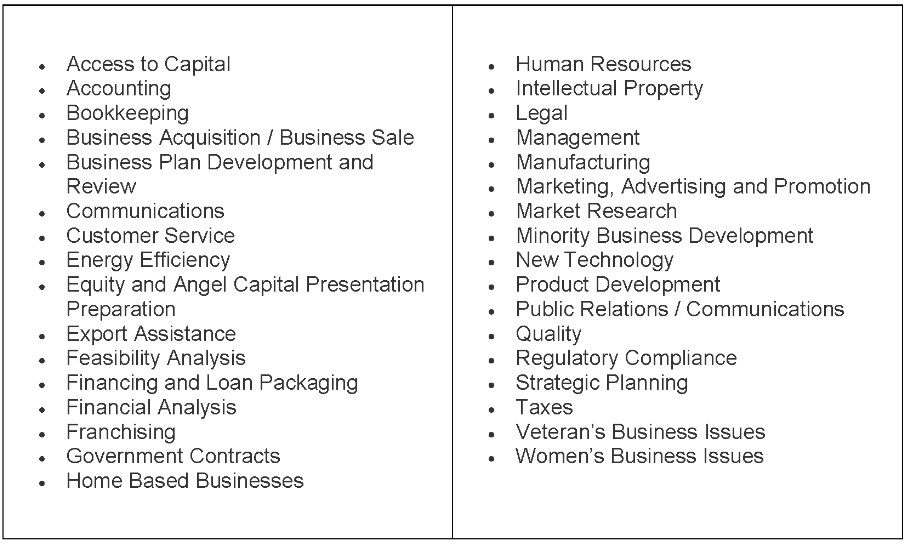 One of the key strengths of the SBDC system is its network of partners.  If you do not see your specific need listed, you still may want to contact us.  We may know who can help meet your need.
Check out our video!    https://www.youtube.com/watch?v=DxwOKeeETF0&t=10s
If your business is or will be in Summit, Portage, or Medina County, please click the below link to register with our Akron center for business counseling: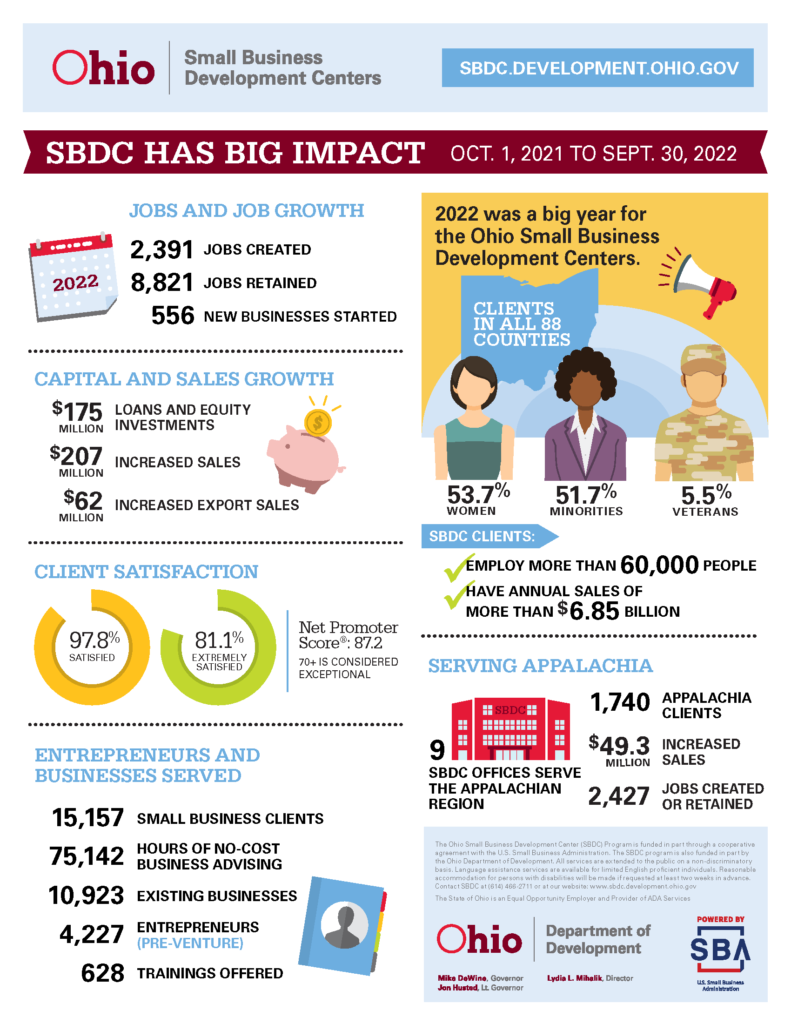 *************************************************************************
*************************************************************************